Two gangs turn to vengeful murder following a contentious drug deal.
Full movie available on Amazon.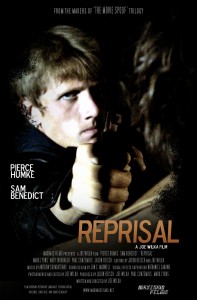 After spending four years of high school fighting with lightsabers and laser blasters, I knew I needed a big dramatic shift for the next stage of my filmmaking career if I wanted to be taken seriously. That being said, I knew I still needed to work with what I had — which was my friends who I'd been making movies with for the past 5 years and any free time we could muster during the summer. I had never been a particular fan of youth-gang type of movies, but I wanted a story that was dark, gritty, violent, and above all – adult. So I decided to dive into a sub-genre that I didn't care for to discover why and hopefully come out with a story that fit my own sensibilities. I drew major influences from both The Outsiders and The Departed (which had just been released at the time) and crafted a story about these two groups of violent, lost youths that were at odds with each other. The shooting of the film still stands as the smoothest production experience I've ever had – although just coming off a three-film four-year-long production probably had a lot to do with my perspective. The only hitch came in post-production. We started shooting in June and were getting ready to premiere the film in August – the shortest turnaround time we would ever attempt. This was also the first film we shot in High Definition, so we ran into compatibility issues with our editing workflow when it came to the visual effects work. The night before the premiere, we still did not have the film outputted and ready. To get the film ready, we had to excise the visual effects shots and output the movie to camera-tape instead of DVD. The theater we were showing the movie at was set-up for DVD projection. The morning of the show we had to reconfigure the set-up to play off the video camera we shot the movie on. Luckily it worked, and we were once again able to pull off a premiere at the last minute. The film was received quite well and its shortcomings aside (a problematic 55 minute running time for starters), it still remains an important turning point for the films I would make in the future.